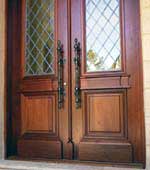 Our doors are created as works of art. We can design and build just about any type of door - be it gothic style entry to a castle or a grand entrance to a home, with a garage door that matches every detail. Each door is hand-crafted by an experienced team of carpenters who are inspired to produce a beautiful balance of form and function. Genuine hardwood doors have graced the most elegant homes in the world. Let us inspire you to define your boundaries with the quality and durability of solid hardwood doors.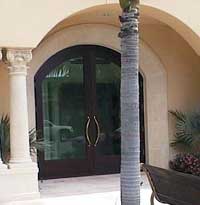 Our entryways are created with mouldings, raised panels, squared or sculptured curved top panels, sidelights, transoms, and carefully measured spaces for elegant glass inserts. Meticulously fashioned to folllow a clean cut design.

Select from our standard styles or create your own look with a custom design, enhanced by your choice of select hardware and stained glass.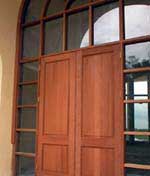 Click here to see our Passageways



All our doors are available as slabs or as a complete prehung unit. Choose from standard styles or create your own look, whether it be a style you see in a brochure or one that you create yourself. We also offer prefinishing and installation upon request. Roll over any of the thumbnail photos below to see a larger version of some of our standard styles available.

Standard Door Styles





Roll over thumbnail photo to see an enlarged view of our Standard Door Styles.



Species of Woods Available for Doors





Distinctive Door Systems
A Divison of Czar International Corporation